Import Auto Service is a full-service maintenance and repair shop specializing in Acura, Honda, Subaru, Saab, BMW, Mini, Lexus, Toyota, Infinity, Nissan, Audi, Volkswagen and more.  Contact us for appointments and more information on our brake services.
Import Auto Brake Services
Brake services and maintenance are a necessity to ensure your safety as well as your passengers. Drivers rely on the brakes of the vehicle to assist in regular stops, as well as the occasional quick stop to avoid an accident. If your brakes have begun to make a squealing sound, take it as a sign that you need to have your brakes serviced immediately. A certified technician should be consulted to inspect your brakes at any time when you begin to notice an irregularity or new sound.
Understanding the Components of Brakes
The brakes of your vehicle are comprised of individual components that work together to help the car stop. As an automobile owner, you should understand how these various moving parts work as they function with the brake system. As you press down on the brake pedal, your brake pads work to create friction. The rotor will then disperse heat within the vehicle so that the brakes do not overheat. Each component is vital to the correct functioning of the brake system.
Our Convenient Location
1825 George Avenue
Annapolis, MD 21401
Hours:
Tues | Wed | Thurs 8am-6:30pm
Fri 8am-6pm
Common Brake Issues that Indicate Repair Work is Needed
As a driver, you may come across a few problems that could suggest that your brakes need to be serviced. If you find that your brake pedal begins to press farther into the floor or has a spongy feel, you most likely have an issue. If you brake and the vehicle pulls to the left or right, you have an issue. Vibrations or unusual noises as you brake can also indicate a problem.
Today's brake pads have been constructed to include a metal component built-in. This part will create a slight squeal. This sound will increase over time to alert you that service is needed. Once the squeal becomes loud, it is time to have your vehicle serviced.
One of the most common repairs needed involving brakes is the replacement of brake pads. Brakes are created to wear out eventually. The pads rub on the brake disk to stop the car when needed. And over time, these pads will wear down and need to be replaced. A professional replacement is required as the process can be complicated and requires the right tools. The piston and calipers must be adjusted, and proper tools are needed to do so. Thicker pads can also be relatively difficult to install.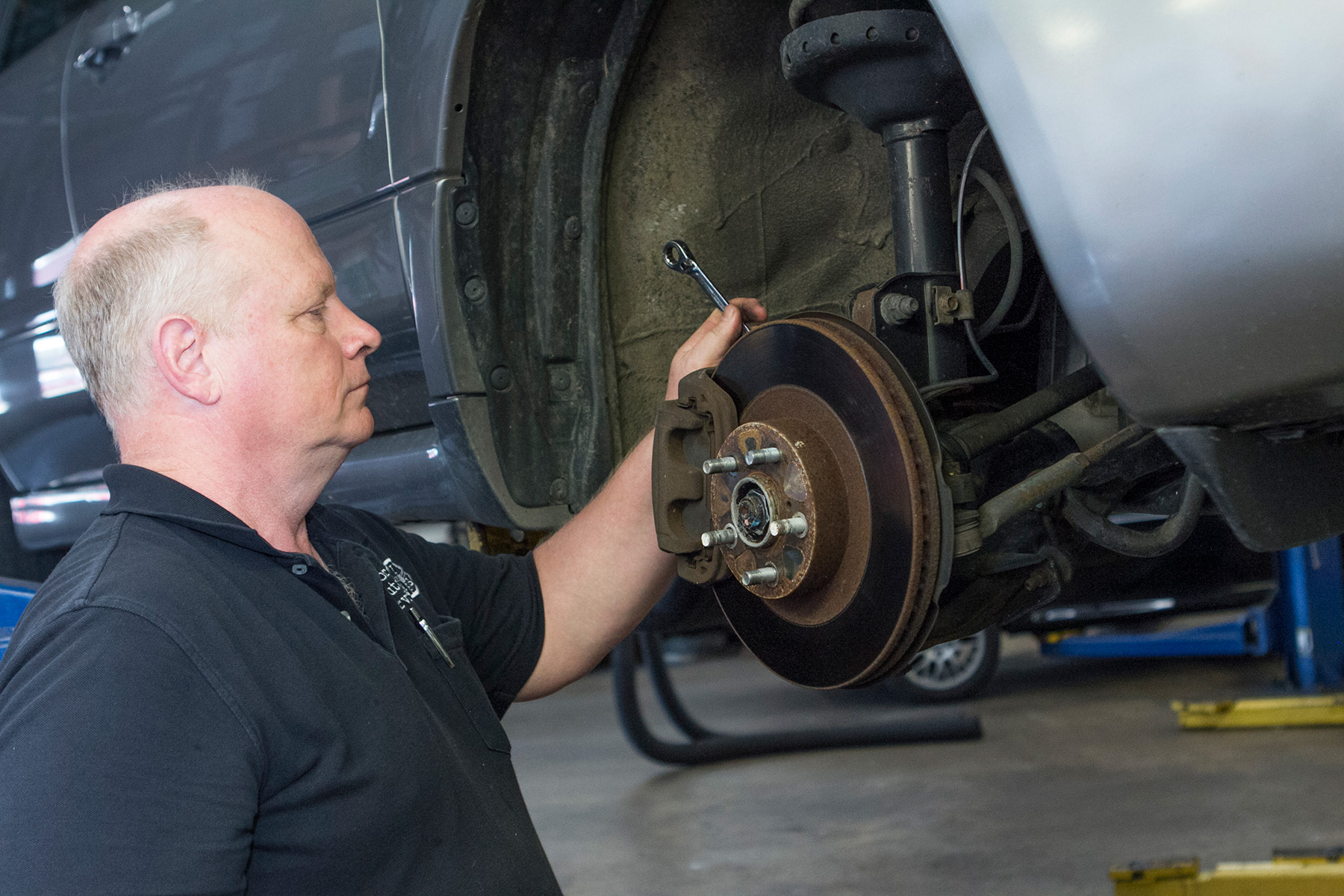 Get Your Brakes Checked
It is also important to have other areas of the brakes inspected when replacing pads to ensure no further problems exist. This is why a professional inspection is so important. By letting the experts thoroughly inspect your braking system, your vehicle will function properly, providing you with a quality ride for many years to come. Have your car serviced by the professionals on a regular basis to ensure that your brakes are operating efficiently. It's imperative to have a car or truck that is functioning properly so you can be safe on the road. Contact us today to make an appointment to have your brakes checked.